Islamic Circle of North America Sisters was established in 1978 as a response to the growing need for a supportive Muslim Community in North America. It is a grassroots organization that caters to the needs of its diverse community for education, outreach, and social wellbeing. Since its establishment ICNA Sisters has expanded its reach across the US while maintaining an active presence in local communities.
Youth Development
Young Muslims (YM Sisters) is a grassroots national organization that aims to seek the pleasure of Allah by empowering, educating, and developing the youth through sisterhood. It is the youth division of ICNA Sisters.
Education
Education and development of members in the light of the Qur'an and Sunnah is a key initiative. Members receive training in their preferred language English or Urdu. Education is done at both individual and group level.
Community
We focus to build a strong and prosperous community with a sense of friendship and trust. The work focuses to educate community members about Islam and collaborate with them in community initiatives for the betterment of all.
Relief
Islam teaches to serve humanity and provide relief to the distressed. Assistance is provided to all without any discrimination on race, ethnicity, and gender. Members participate in efforts locally, across the country, and internationally.
OIIW Graduation 2023
Remarkable journey of the Online Islamic Institute for Women
Empowered Women at ICNA Convention 2023
ICNA Convention 2023 : An incredible success,
ICNA Convention
This event is the largest gathering of Muslims in the United States...
Fouzia Naheed Outreach Center
A project for sisters by sisters
ICNA AT A GLANCE
ICNA Sisters were established on July 9th, 1978 to carry out this responsibility given to them by Allah.
Fehm ul Quran Graduation 2022
Tarbiyah Seminar
In September 2022 various chapters came together all over USA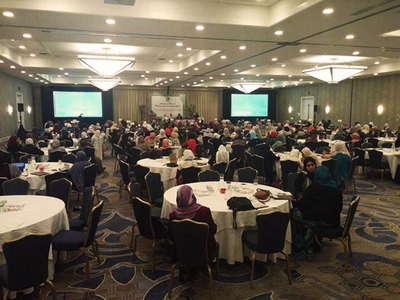 Women's Conference
A Remarkable Success: U.S. Muslim Women's Conference